The Ajka tailings dam failure, 2010
Around 12:30 hrs of 4th October 2010, the north-western corner of a vast reservoir containing some 30 million cubic metres of waste from an aluminium factory in the village of Ajka, in western Hungary, suddenly collapsed, giving rise to a red mud flow of nearly 1 million cubic metres, which poured out over the surrounding countryside causing an environmental catastrophe.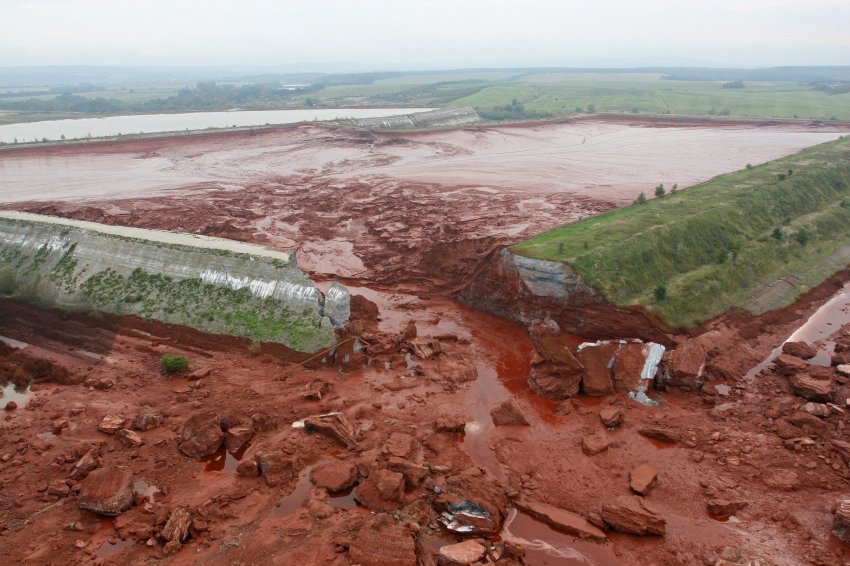 The village of Kolontár was struck and partly submerged by the large mass of water mixed with toxic mud from the failed reservoir, taking the inhabitants of the area by surprise. Some houses and bridges collapsed following the heavy impact of the mud flow.
Within a few minutes, also the village of Devecser, located some kilometres downstream, was struck by the waste spill. Roads turned into streams of fluid red mud, which swept away dozens of cars, many houses and other buildings. Eventually, an area of over 40 square kilometres was affected by the disaster.
The red mud which caused the accident is a waste product of the so-called "Bayer process" which transforms bauxite into alumina. This mud mostly contains the non-aluminium compounds found in bauxite; its typical red colour is due to ferric oxide, which is its main component. In the first stage of production, the mud is highly alkaline; therefore it is stored within large open-air reservoirs in order to reduce this negative characteristic.
Large tracts of countryside and farmland were made sterile by the alkaline red mud from the Ajka reservoir. Furthermore, the highly toxic chemical compounds destroyed all forms of life in the Torna and Marcal streams and also caused the mass death of fish in the River Raba as far as its confluence with the Danube.
10 persons were killed. Circa 300 were injured, many of whom had chemical burns resulting from contact with the highly alkaline muds. Total damages have been estimated at around 38 million Euros.
The failure of a tailings dam at the Ajka plant in Hungary is considered the worst disaster of this kind that has ever struck Hungary and one of the worst ever worldwide. It was similar in many ways to the catastrophes of Sgorigrad in Bulgaria in 1966 and of the Stava Valley in Italy in 1985.
Links:
http://en.wikipedia.org/wiki/Ajka_alumina_plant_accident